Vehicles needed in Liberia for IGRC mission teams
9/22/2010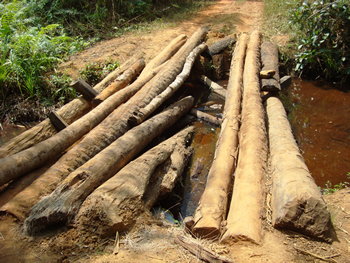 Two four-wheel-drive vehicles capable of eight people are needed as soon as possible for the IGRC mission teams traveling in Liberia.
A special fund is now established to raise funds to purchase two four wheel drive vehicles for IGRC mission teams use in Liberia. The need is simply for safe, dependable vehicles to help us continue to reach destinations in Liberia to further our partnership. These vehicles do not need to be new vehicles – only in good repair and capable of traversing very poor roads.
To contribute to this fund, checks may be made out to IGRC with the following clearly written on the check designation line:
LIBERIA VEHICLE 300-40500 PROJECT 384
. Questions regarding this need may be directed to Bunny Wolfe at
bwolfe@igrc.org
.
With teams larger than five people two vehicles are needed to haul team members, Liberian VIM assistants, cooks and our supplies. We have been advised to send or purchase only Nissan or Toyota vehicles because of availability of parts within the country.
Here are some photos of roads we have crossed in Liberia. The past two years we have reached places where we were forced to turn around because our vehicle could not cross a bridge or navigate deep holes of mud.
Congregations we were trying to reach had waited four hours or longer and then had an even longer wait to receive the news we could not reach our destination. This is not only disappointing to IGRC teams trying to reach a partner church but it is more importantly disappointing to our friends in Liberia who love to have us visit. Our partnership with Liberia is about building relationships and being with people and our projects help make that happen in some very remote areas at times.
The need for vehicles for IGRC teams is a matter of safety. We continue to repair Liberia Conference vehicles while we are there, but these repairs are only temporary and these vehicles are no longer safe to use. On a recent trip we paid more than $600 into repairs for our team to have transportation only to have a tie rod collapse on our way to the airport.
Vehicle rental is not a good option for us because of cost, potentially unsafe drivers and poor conditions of the rental vehicles. In January, in order to reach a district event we rented a van that was driven by an inexperienced young man who was just hired the morning we left. The rental van broke down twice leaving us once stranded at night by the side of the road. Our regular drivers who work for the Liberia Annual Conference will not drive rental vans because of the poor condition of most of the rentals which makes us vulnerable to drivers we do not know.