Cunningham teacher competes in Ironman Triathlon
10/14/2011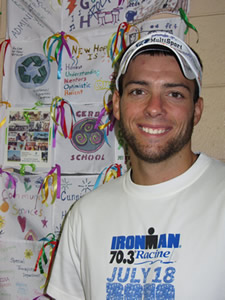 URBANA – Cunningham Children's Home Teacher Roy Riley, competed in the Ironman Triathlon World Championship Oct. 8 in Kona, Hawaii.
The Ironman Triathlon consists of three parts: a 2.4-mile swim in the ocean, a 112-mile bike ride, followed by a full marathon of a 26.2 mile run.
Riley finished the course 1290th overall in a field of 1855 from 50 countries. His overall time of 11 hours, 47 minutes and 46 seconds was 85th among men ages 25-29. Riley clocked the swim in 1:13:30; the bike ride time of 5:52:18 and the marathon run in 4:30:24.
Riley was invited because of an essay he wrote explaining how the Ironman motto "Anything is Possible" reflects his life. Using his experiences as a physical education teacher at Gerber School on the Cunningham campus, Riley reflected on the challenges his students have experienced in their young lives – abuse, neglect, and separation from their families – which they struggle with every day. "My students have not had many role models in their life and they have rarely had an opportunity to play sports with a parent," Riley said. "They have taught me that anything is possible if you work hard."
Gerber School provides special education services to residents at Cunningham who have emotional, behavioral, and mental health issues.
NBC Sports was impressed with Roy's journey to the Ironman Triathlon and his story, and will feature a story about Riley's life during the national broadcast of the event, on Dec. 10, at 3:30 p.m. Central Time. A camera crew from NBC was in Urbana on the Cunningham campus recently to film Roy.
On an annual basis, Cunningham Children's Home serves more than 250 children and adolescents with serious emotional and behavioral disabilities and their families in programs that include Residential Treatment, Foster Care, Independent Living, and Therapeutic Special Education. Cunningham Children's Home is a mission and ministry of the United Methodist Women of the Illinois Great Rivers Conference in partnership with the General Board of Global Ministries of The United Methodist Church.